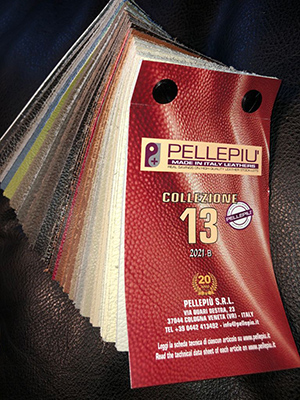 February is gone too and we can only return to thank you, for the numerous order received, which have distinguished it.
We have learned over the years, that when leathers prices rise, so do the companies that look for savings opportunities in our catalog.
Our unbeatable prices, in market situations such as the current ones, makes the difference more than ever.
Nevertheless, in all honesty, we did not expect to start our twentieth year of business with so much… wind in the sails.
This led us to anticipate the release of "Collezione 13" which we are pleased to present today, inviting you to view it in our up-to-date online catalog, you will also find the technical data sheet of each item, with the description and the quality rating, expressed in "stars" from one to five.
Our leathers are, as always, inspected one by one, and it is for this reason that their compliance with the internationally required specifications, for furniture leathers, is always guaranteed.
And then, last but not least there is ITALO , our main item, with its 20 colors always available and ready for immediate shipment.
Request our samples by writing to info@pellepiu.it and contact us for information and quotes of upholstery leathers of all kinds, we always reply within 24 hours.